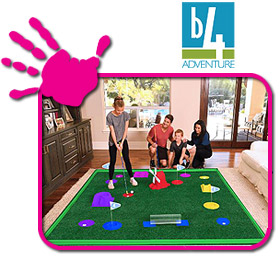 Cosmic Mini Golf Game from B4 Adventure.
Miniature Golf 5 Hole Course with Glow Option
FUN FOR ALL AGES: Get the family together or group of buddies for birthday party
to play a round of miniature golf in 5 hole course. Play independently too!
BIG CREATIVE LAYOUT & OBSTACLES: Each hole will have fun challenging, obstacles
such as tunnels, ramps, zig zags, and moving obstacles such as the traditional
Windmill. Green printed felt – dimensions 78" x 96" Includes attractive 2 putters, 2
balls 4 color package storage box-
UNLIMITED HOLE DESIGNS: Flexible layout with multiple configurations and ability
to set up holes around your home on carpet.
HOT TREND NEON GLOW GOLF: Our entire kit including obstacles, holes, track
border, and are made with neon colors that glow under black lights(sold separately
in GLOW Kit) so you can enjoy glow-in-the-dark golf.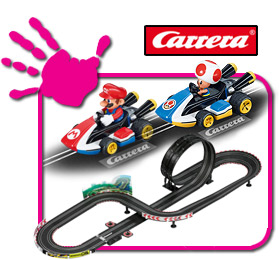 Carrera Makes Racing Fun!
Mario burst back onto the scene at full speed. Now blessed with even more superpowers, Mario speeds from one adventure to the next. Together with his buddy, Toad, the world's best-known plumber causes havoc out on this Carrera racetrack. It's time to race! Toad is the adventurous type and loves putting his foot to the floor. Great road-holding with wide-based tyres makes racing even more fun. Into the bend, then hit top speed around the loop! Mamma mia! The clever track layout guarantees thrills and spills every lap. There are great details from Mario's world up and down the 5.4-metre car racetrack to excite fans of all ages. Racing fun for the whole family.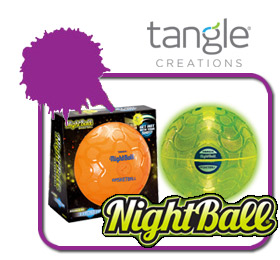 Dribble in the Dark!
Get hot with your shot! New for 2016, the Tangle NightBasketball™! Its unique Matrix design makes this ball easy to grip, dribble, bounce, and shoot. With super bright motion sensor LEDs built right into the ball, it will amaze you as it bounces and travels through the air.
Made with latex-free, phthalate free, non-toxic TPR material, the NightBasketball™ is water- resistant and floats too!>
Available in two colors – Green and Orange – the NightBasketball™ is unlike any basketball you've ever seen before. Now you can shoot hoops anytime, anywhere – day or night!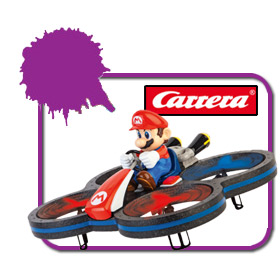 Carrera's High Flying Drone!
Mario now has his own Quadrocopter and just in time for the holiday season!  It's just as cool as Mario Kart and boasts an anti-gravity mode.  This new copter features 6 axle gyro system for flight stability and a protective cage for the rotors!  Mario's new ride has beginner and advanced modes.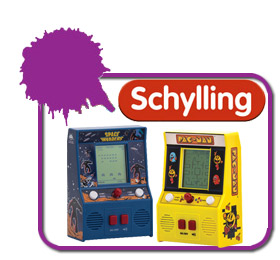 Schylling's Retro Arcade Games!
These desktop sized Space Invaders and Pack-Man arcade games bring the fun of the arcade home!
Shylling has brought back the fun of the game that started it all and the game that made you fall in love with arcade games!  The most addictive arcade game of all time, Space invaders, and Pac-Man are available now.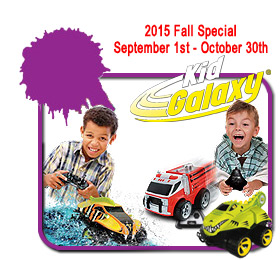 Cute and cuddly and just the right size!
These adorable little glove puppets from The Puppet Company are just the right size for the tiniest puppeteers in your life!
Soft, Cuddly, and made from quality fabrics with embroidered faces they are the perfect starter puppet.
There's a whole zoo of cuddly creatures to play with at The Puppet Company.


Get your own Minion army!
If you are looking for a wonderful decoration for your yard or some high flying fun with a kite the windsocks and kites from the #1 kite company Brainstorm Wind N Sun are perfect!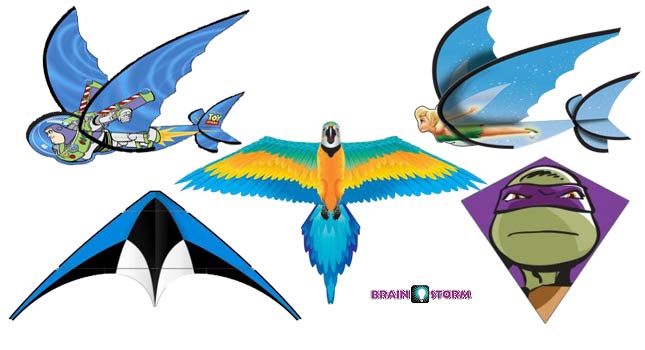 Fun for the Junior Geniuses in your family!
Smart Fun and challenging, Cool Circuits Junior is just the right fit for the budding geniuses in your life!
The kit includes a brand new set of 40 unique puzzles and orange barriers which simplify the game for children ages 6 and up.
Hours of fun with the bonus of teaching problem solving and thinking skills!